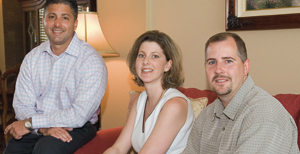 The most challenging part for Nick Burrafato was handling other business during those three days. "I thought I could shut off my business for three days, but it was extremely challenging."
Looking for an innovative way to market yourself and listings? A national show would be nice, wouldnt it? With the popularity of reality television, programs about the home buying and remodeling process are many. We spoke with Realtor Nick Burrafato about his experience on the Home and Garden Networks (HGTV) House Hunters television program.
While its typically not easy to get on one of these shows, it might be fun to try!
The way the [House Hunters] program works is this: Once you find a house that your customers are going to buy, [the shows producers] re-create the buying process. So when youre watching the program and [were] walking into three different houses, [the buyers] have already [contracted to buy] one of those houses, says Burrafato, a sales associate with RE/MAX Central Realty in Lake Mary (near Orlando).
Ironically, Burrafato didnt contact the House Hunters show looking to be featured. The producer found me through my Web site. From there, Burrafato auditioned for the show and picked a couple that he was currently working with to be on the show with him. However, he says, House Hunters is something for which anybody can apply. The producer [at Pie Town Television Productions] actually called me, and I said, Yes, this would be a great idea.
The key, says Burrafato, is that theyre looking for really easy-going people who want to have fun [during filming].
My customers had to do a video of themselves at their existing home, so really, they had to sell themselves. When [the producers] saw their video, they loved them. Kim and Greg Warp are in their mid-thirties, extremely successful, and theyve got three little kids, so theyre just an American family making a move from 10 acres of land in Virginia to a $1.7 million home in Windermere where theyre getting a whole lot more square footage. But, more importantly, [the Warps] are getting a community where their kids can go out and play and make friends. It made for a pretty good story.
Not only that, says Burrafato, but, The interesting thing about the whole deal and this is going to blow your mind is that [in real life the Warps] bought this house from me sight unseen. I found the house, and I [e-mailed them] 109 pictures, and they bought it. So the day we filmed the episode [showing the home] was [also the first day the Warps actually saw the home in person]. In fact, in between takes, I would drag [the couple] into other areas of the house to show them what they bought because [the home] is 7,000 square feet.
The show took three days to film. We did each house on a separate day and [at the same time included] different shoots, like an interview with me and the signing of the offer, he says. We would go into a room, like the kitchen, and [the producer] would say What would you like to say about this? and Id tell her and [then] shed ask my customers, What would you like to say? And then we walk back into the room and shoot.
The most challenging part for Burrafato was handling other business during those three days. I thought I could shut off my business for three days, but it was extremely challenging. While Burrafato doesnt think he lost any business, he says even if he did it was worth it. Sometimes youve got to get your eyes off the money and keep your eyes on the things you really want to do. [The show] did pay my customers (around $500) but for me there was absolutely no [monetary] gain.
However, the publicity alone will be gain enough. Im sure, somewhere down the line, something is going to come of it, he says. However, even if it doesnt, Burrafato doesnt care. It was an awesome thing to do. And my customers are so excited because now they have documentation of the purchase of their dream house.
Look for Burrafato on HGTVs House Hunters program in the Fall.
Interested in being on the show? Visit Pie Town Televisions Productions online at www.pietown.tv and fill out an online application. Pie Town produces other HGTV shows such as House Hunters International, National Open House, which shows what kind of house you get for the money in cities and towns across the United States, Whats My House Worth? and Designed to Sell.
Says Burrafato, Give them some of your personality and tell them you want to have some fun, and that youve got some great customers. The key is to pick [customers] you really like because youll have fun at it and it will come across good on camera.